Un artiste venu de loin à suivre de près.
Artiste classé numéro 1 à Hawaï, ce jeune homme vous est sûrement inconnu. Pourtant, il cumule plus d'un million d'écoutes (sur Spotify uniquement) pour son titre phare "How high?" et compte bien continuer sa percée avec la sortie d'un EP très bientôt. Damnboy! est un peu inclassable. Entre reggae et pop music, il emmène les couleurs de son île à l'international et incarne le rêve hawaïen. Il se présente à la France pour l'une des premières fois sur Lemon Mag.
Ton nom damnboy! est assez surprenant, notamment avec ce point d'exclamation, d'où vient-il ?
Your name damnboy! is quite surprising, especially with that exclamation point, where does it come from ?
damnboy! : En fait c'est parti d'une blague, je faisais des concerts pour des grosses sociétés à Waikiki et à la fin les gens criaient "Daaaamn boy !*". Un peu plus tard, un soir je pensais à lancer ma carrière et j'écoutais Kendrick Lamar et son album DAMN et celui de The Weeknd Star Boy juste après. A ce moment là ça a fait tilt, j'ai combiné damn et boy. J'ai ajouté le point d'exclamation pour mieux faire ressortir les mots.
*bravo mon gars
It's actually a funny story. I used to play corporate gigs at bars in Waikiki and people would shout it out. But one night as I was tryna reinvent myself, I was listening to Kendrick Lamar album DAMN on YouTube and then some how The Weeknd "Star Boy" came on after. So I combined the two and put the exclamation point at the end to pop the word out.
On sait que tu as beaucoup bougé quand tu étais enfant. Tu as habité à Hawaï, puis Houston, tu es allé au Vietnam puis à Atlanta et maintenant tu es de retour à Hawaï. Est-ce que tous ces voyages ont influencé ta musique ? Et quel impact ont tes origines franco-vietnamiennes sur ta musique ?
We know that you have moved a lot when you were a kid. You lived in Hawaii first, then Houston, you went to Vietnam, then Atlanta and now you're back in your home country. Do all these travels have an influence on your music ? How your french-vietnamese origins had an impact on your music ?
Je pense que mes voyages influencent ma musique. Mes parents ont immigré donc j'ai grandi en écoutant des sons US et des sons vietnamiens. Quand j'ai commencé à voyager je me suis intéressé à d'autres cultures et donc à manger local et à écouter de la musique locale. Grâce à ça je suis vraiment ouvert à toutes les musiques et toutes les langues.
I definitely think it does have a influence. My parents are immigrants so I grew listening to both English and Vietnamese songs. But then once u travel and get immersed in other cultures u start eating the food and dancing to the music. So I'm very open to music in every genre and other languages.
Toutes les chansons que tu as sorties parlent d'amour. Elles sont d'ailleurs souvent sur l'amour déçu, alors comment ces thèmes sont-ils venus ? Viennent-ils de ton expérience personnelle ou t'inspires-tu de ce que tu vois autour de toi ?
All of the songs you've released are about love. Also, main are about deceived love, so how does theses questions came out ? Are they based on your personal experience or do you take your inspiration from around you ?
Je dirais les deux. J'aime m'inspirer de ce qui se passe autour de moi et créer des concepts, mais je puise aussi dans mon expérience personnelle.
I think I do both. I like to take what's around me and make different concepts of songs but I also take inspiration from personal experiences.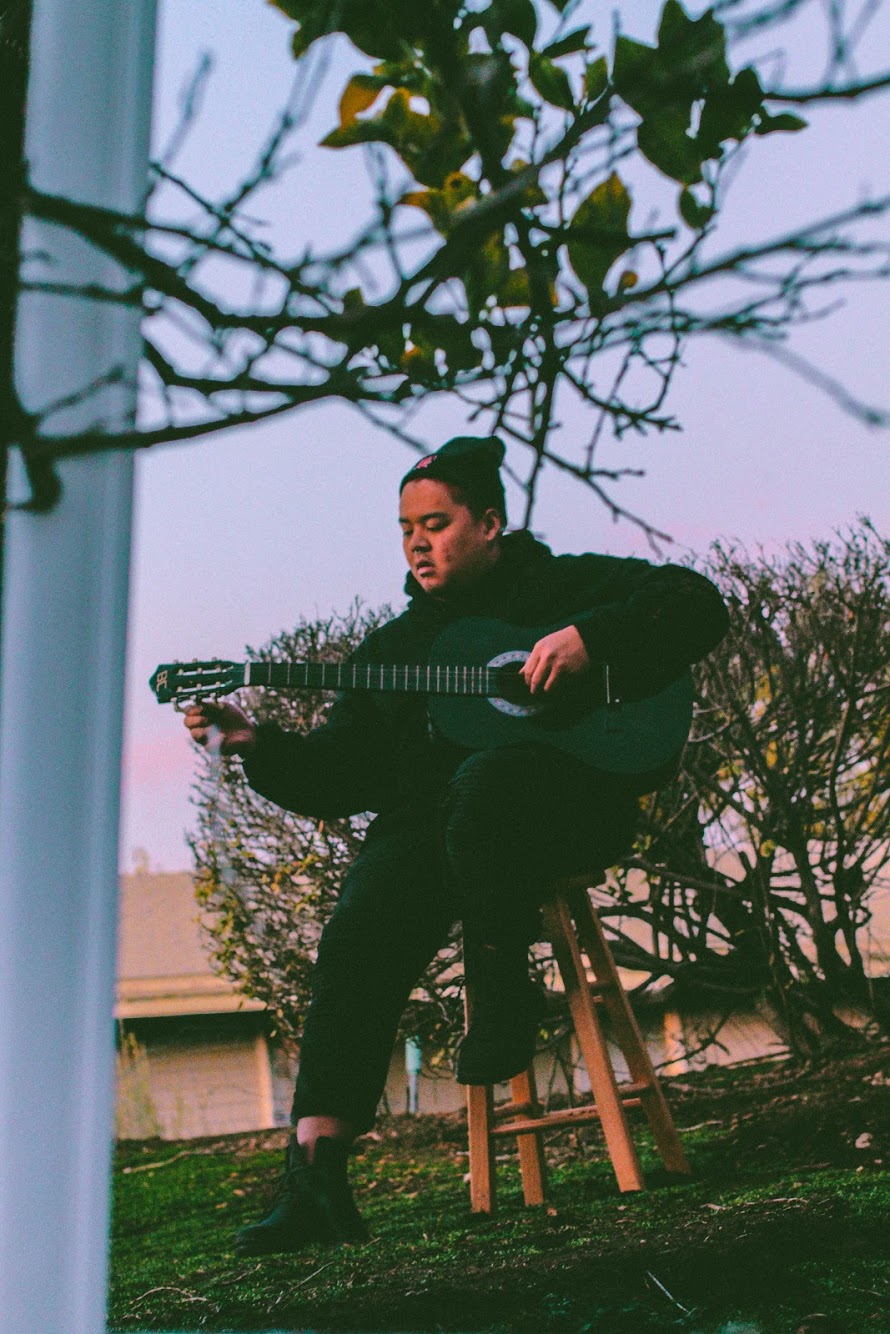 Damnboy © DR
Tu vas bientôt sortir un EP appelé nvr ending UNKNOWN, dis nous en plus à ce propos…
You will soon release an EP called "nvr ending UNKNOWN", tell us more about it…
nvr ending UNKNOWN est surtout un sentiment que je voulais transcrire. La sensation de s'évader. Il y a tellement de choses horribles qui se passent dans le monde, je voulais juste faire un projet qui m'aide à m'échapper. J'espère que mes fans comprendront cette volonté et que ça leur parlera.
« nvr ending UNKNOWN » is more about a feeling I wanted to convey. And that feeling is to get lost and escape. There is a lot of crazy things happening around the world. I just wanted to make music for me that helped me escape and hopefully that resonates with my fans.
Ta musique est à la fois reggae et pop-music, comment l'idée de mixer ces deux styles t'est-elle venue ?
Your music is close to reggae and pop music, how did you come with the idea to mix these two styles ?
J'ai l'impression qu'aujourd'hui la pop est devenue un moyen de faire de la musique incroyablement unique. J'aime cette idée. J'aime combiner les genres c'est super excitant de faire des trucs que personne ne fait.
Nowadays pop has become a vehicle to make amazing unique music. I love. I love combining genres, it excites me to do things that people aren't and push myself.
Quels sont tes artistes préférés, de ton enfance jusqu'à aujourd'hui ?
What are your favorite artists, from your childhood to today ? Name a few.
C'est toujours super dur pour moi de répondre à cette question, il y en a tellement que j'aime. Comme ça je dirais The Cure, Kanye West, The 1975, Ryuichi Sakamoto, Red Hot Chili Peppers, Mew, My Chemical Romance, Robert Glasper.
This is always a hard question for me lol. There is so much that I like. I would say top of my head : The Cure, Kanye West, The 1975, Ryuichi Sakamoto, Red Hot Chili Peppers, Mew, My Chemical Romance, Robert Glasper.
Ecoutes-tu de la musique française ? Qui ?
Do you listen to french music ? If so, who ?
J'aime beaucoup Phoenix et les Daft Punk. Je pense aussi que la pop et le reggae français a un bon niveau ! J'adore la chanson française et tout ce qui comporte un accordéon me rend heureux.
I really like Phoenix. Daft Punk also. I think French pop and reggae is lit. I especially love French chanson, or anything accordion makes me happy.
Tu as un style vestimentaire très personnel et assez rock voire grunge. C'est plutôt à l'opposé de ta musique, comment expliques-tu cette ambivalence ?
You have a very personal fashion style, quite rock, even grunge. It's rather at the opposite of your music, how do you explain this ambivalence ?
C'est vrai ! Ce que je porte change en fonction de mon état d'humeur et de mon portefeuille ! (rires) Je suis très pointilleux quand il s'agit de ce que je porte, je n'aime pas être habillé comme tout le monde.
Hahah that's true. Well my fashion changes depending on my mood and what my wallet looks like haha. I am very picky I guess when it comes to what i wear. I don't like wearing what others are wearing.
Que dirais-tu à quelqu'un qui ne connaît pas encore ta musique ?
What would you say to someone who don't know your music yet ?
C'est toujours un peu dur de décrire ma musique, mais en général je dis que je fais de la pop. C'est un terme qui englobe plein de choses et j'aime que les gens soient étonnés.
It's always hard for me to describe my art but I usually tell people I do pop. Even though it's a broad genre I like to keep people guessing.
Quels sont les meilleurs endroits d'Hawaï selon toi ?
What are the best spots in Hawaii (music, food), according to you ?
Oh c'est dur comme question ! Hawaï a énormément de bons restaurants. Le meilleur et le plus abordable des Poké est Alamoana Food Land. Pour les ramen c'est Hawaii is Wagaya. En matière de musique Republik est ma salle de concert préférée et ma plage préférée est Waimanalo Bay.
Man that's a difficult one. Hawaii has so much great food. Low key best cheap Poké is Alamoana Food Land. My favorite ramen spot in Hawaii is Wagaya. As far as music venue the Republik is my favorite venue. My favorite beach is Waimanalo Bay.
Propos recueillis par Lucille Souron